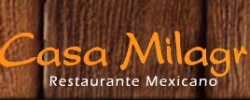 Casa Milagro Dinner Fundraiser!
Please join us Tuesday, April 19 from 6-9 pm for the next RSO Dinner Fundraiser! Casa Milagro will donate 25% of all food and non-alcoholic beverage purchases back to the RSO. Be sure to let the hostess know that you're supporting the symphony!! 1403 East Campbell Rd., Suite 110 Richardson 75081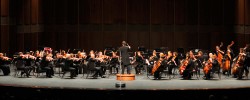 2016/2017 Season Tickets
2016-2017 Season Tickets will go on sale April 15th. Please call the Eisemann Center Ticket Office to purchase Season Tickets. 972-744-4650 (Monday - Friday 10 a.m. to 6 p.m.) Please see the complete repertoire below for next season.
October 1, 2016 • OPENING NIGHT CONCERT
Berlioz: Roman Carnival Overture
Saint-Saens: Violin Concerto No. 3 in B minor, Op. 61
Tessa Lark, violin
Dvořák: Symphony No. 7 in D minor, Op. 70
December 3, 2016 • HOLIDAY CLASSICS
Featuring the Hamilton Park Baptist Men's Chorus
John Tatum, Director
February 4, 2017 • AN EVENING OF HITCHCOCK AND SPIELBERG
Join us for a night at the movies! Music from your favorite Hitchcock and Spielberg feature films, To be accompanied by film montages created by Alamo Drafthouse Cinema.
March 4, 2017 • ROMANTIC TREASURES
Weber: Overture to Oberon
Schubert: Symphony No. 8 in B minor, D. 759 "Unfinished"
Piano Concerto performed by the winner of the Ann and Charles Eisemann International Young Artists Competition
April 8, 2017 • STARS OF THE RSO
Bloch: Concerto Grosso No. 1 for Strings and Piano Obbligato
Ravel: Introduction and Allegro
Copland: Quiet City
Mozart: Symphony No. 40 in G minor, K. 550
The RSO showcases the exceptional talents of five principal players featured in two prominent works of Ravel and Copland. Bloch features the string section and Mozart closes the program.
May 6, 2017 • ALL TCHAIKOVSKY - SEASON FINALE CONCERT
Tchaikovsky: Symphony No. 5 in E minor, Op. 64
Tchaikovsky: Piano Concerto No. 1 in B-flat minor, Op. 23
Michael Brown, piano
Single tickets will go on sale August 1, 2016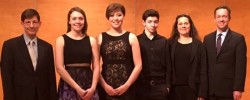 Ann & Charles Eisemann International Young Artists Competition for Strings
Congratulations to the winners of the Ann & Charles Eisemann International Young Artists Competition for Strings, presented by the Richardson Symphony Orchestra on Saturday, January 16th. Judge Paul Kantor (Rice University), third place winner Ariana Nelson (Juilliard), first place winner Eleanor Dunbar (SMU), second place winner Michael Zyzak (TCU), Judge Jennifer Culp (San Francisco Conservatory of Music), Maestro Clay Couturiaux. Our next competition is for Piano and will take place on Saturday, January 14, 2017.